BEYOND | pavilion of innovation 2015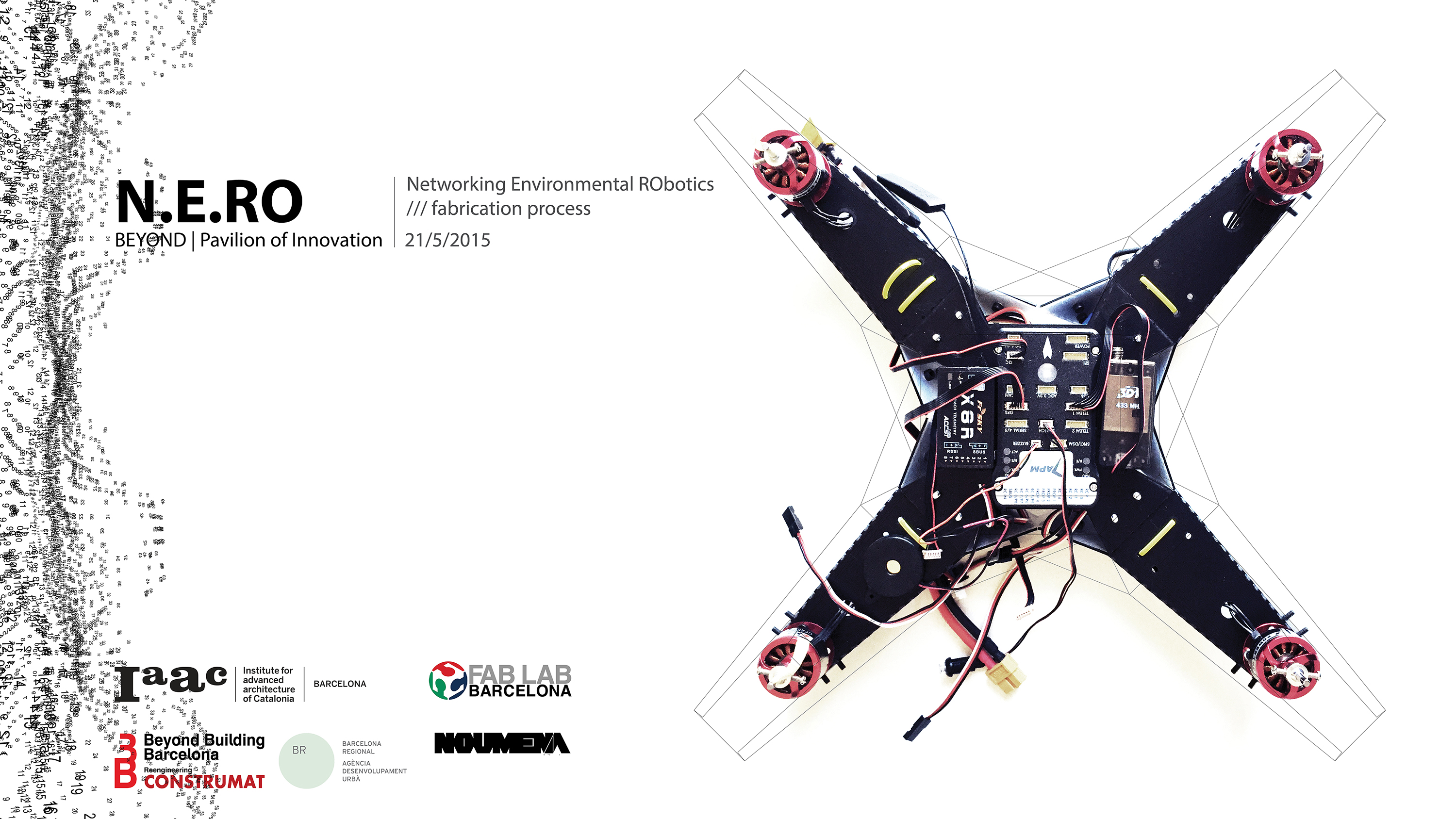 The usage of drones has become a common practice today, with applications in several sectors, from leisure to professional services such security, photogrammetry, environmental mapping and tourism. N.E.RO. technology focusses on data collection and the translation of diverse environmental conditions into useful and accessible information and resources. During this event, we will explain the fabrication process and assembly of the first version of the N.E.RO drone. This live presentation will give participants the opportunity to interact with drone technology, from mechanical frame design to electronic assembly.
No requirements are needed. All material needed will be provided by the organization.
Design: parametric drone design
Fabrication: laser cutting the frame
Electronics: assembly and fly test
---
Aldo is an architect and researcher. Master in Advanced Architecture in 2013 at Institute for Advanced Architecture of Catalona (Iaac), Fab Academy Diploma in 2014 at the Fab Lab Barcelona, Aldo is founder of Noumena and Fab Lab Frosinone. Expert in computational design and digital fabrication that teaches in international events and explore within the Lab and its own practice. Since 2013, he is director and coordinator of RESHAPE – digital craft community, a platform dedicated to the development and implementation of innovative ideas from the world of digital design and fabrication. From 2014 he is also coordinator of the Pavilion of Innovation 2015 in behalf of IAAC | Fab lab Barcelona.
---
Chirag is an architect, after being involved in investigating the inter-relation of Architecture with Society and Media during his formative educational years at CEPT, Ahmadabad, India. He furthered his interest through researching and developing interdisciplinary skills of territorial, architectural and parametric design operations at IAAC, Barcelona, where he specialized in computational design and emergent technologies, which followed by expertise in digital tools and digital fabrication by graduating Fab Academy (Course by MIT's Center For Bits and Atoms) in 2014 from FAB LAB Barcelona. He is the Co-founder of Noumena Architecture (Barcelona) and an active member of Fab Lab Barcelona (Spain), Fab Lab Frosinone (Italy) and RESHAPE – digital craft community.
NO FEES REQUIRED and REGISTRATION (until 15/5/2015)
For further information please e-mail at :
[email protected]